Increase your super when you downsize your home
What are Downsizer contributions?

If you sell a property that has been your main residence for at least 10 years and are aged 65 or over, you may be able to contribute some of the proceeds of the sale to your super account. From 1 July 2018, you could be eligible to contribute up to $300,0001 (or $600,0001 for couples) from the sale proceeds of your home to boost your super balance.
These contributions can be made to your super account regardless of your work status, super balance or what you've already contributed to super under the ordinary contribution limits.

Benefits of contributing to super
For many people, super is a tax-effective way to save for retirement. Investment earnings within super are taxed at a rate of up to 15%, compared to investments outside super, which are taxed at your marginal rate (which may be up to 47%2).
We recommend speaking with a financial adviser or tax accountant to consider the right strategy for your circumstances.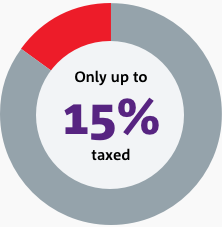 Investments with your super
By using your super account to save for a home, investments earnings on your savings are only taxed at up to 15%.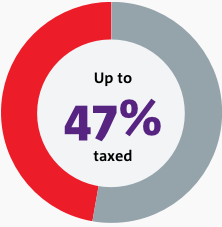 Investments outside your super
Compared to investments outside super which are taxed at your marginal tax rate (up to 47%2), you may be able to reduce the tax you pay on your investment earnings.
Many of the investment choices through super may also attract more favourable returns than standard deposit accounts over the longer term*.
What do you need to consider?
Downsizer contributions aren't tax deductible.
They don't count towards your contribution caps, but may impact your transfer balance cap if you move your super balance into retirement phase (i.e. start a superannuation pension such as an account based pension).
As the contribution will count towards your total super balance, it may affect your ability to make future after-tax contributions if your total super balance exceeds $1.6 million3.
Unlike your home which is not assessed by Centrelink while it is your main residence, your super is assessed as an asset once you reach your Age Pension age. If you receive any means-tested social security or Department of Veterans' Affairs income support payments, you should seek advice to understand the impact that making a Downsizer contribution will have on your entitlements.
To be eligible to make a Downsizer contribution:
you must be aged 65 or over


you (or your partner) must have owned the property for at least 10 years


the property must've been your main residence for tax purposes at some time while you owned it


the property you sell must be in Australia and doesn't include caravans, mobile homes, or house boats


the contract of sale of the property must be entered into on or after 1 July 2018


the contribution to your super account must be made within 90 days of the settlement of your property, and


you're only able to make a Downsizer contribution with the sale proceeds from one eligible property in your lifetime, regardless of whether the1 cap has been fully used.
How do I make a Downsizer contribution?
You will need to complete the Australian Taxation Office (ATO) approved form and send this to us together with your cheque at the time of making the contribution.
This information is reported by the trustee to the ATO. If the ATO determines that you don't meet the requirements to make a Downsizer contribution, penalties may apply.
If you don't submit the form, the contribution is treated as an after-tax contribution (ie non-concessional contribution) and a determination is made whether the super trustee can accept this contribution. If it cannot be accepted, it will be refunded to you. If it can be accepted, the contribution is assessed against your non-concessional contribution cap. If you exceed your cap, significant penalties may apply.
For more information or to access the required form, please visit the ATO Website.
---
Important information
The information about super has been prepared without taking into account any particular person's objectives, financial situation or needs. Before deciding to make a contribution to your super, interested persons should consider the appropriateness of this information having regard to their personal objectives, financial situations or needs.
1 The maximum Downsizer contribution that an individual can make is the lesser of:
$300,000 or
Proceeds received on the sale of one eligible property
Where members of a couple wish to make Downsizer contributions in respect of the same dwelling, the total Downsizer contributions made in respect of the same eligible property must not in total exceed the lesser of $600,000 or the total sale proceeds.
Any advice and information in this publication is of a general nature only. Any general tax information provided in this publication is intended as a guide only and is based on our general understanding of taxation laws. It is not intended to be a substitute for specialised taxation advice or an assessment of an individual's liabilities, obligations or claim entitlements that arises, or could arise, under taxation law, and we recommend that you consult a registered tax agent.
2 Includes Medicare Levy

3 Total super balance includes super savings in accumulation accounts and income streams. This threshold is current for the 2018/19 financial year. Refer to ato.gov.au for more information.

* Past performance is no guarantee of future performance