To help people facing financial hardship due to Coronavirus, the Government has temporarily changed the rules around accessing super. If you're eligible you can access some money from your super where certain eligibility criteria has been met.
The temporary condition of release allows eligible people to apply to release an amount from super, up to $10,000. Two applications could be made:
The first application needed to have been made before 30 June 2020.
The second application can be made from 1 July 2020 to 31 December 2020.

Before you decide to take money out of your super, take some time to decide what's best for you—not just for today, but tomorrow too.
It's important you understand how accessing your super early may affect your long-term retirement savings, and the insurance in super you may have.
| | | |
| --- | --- | --- |
| Age | Amount accessed early | Estimated reduction in balance at retirement (age 67)* |
| 30 | $20,000 | $43,032 |
| 40 | $20,000 | $35,024 |
| 50 | $20,000 | $28,506 |
*These results have been generated using the 'Super withdrawal estimator' available on the ASIC MoneySmart website at https://moneysmart.gov.au/covid-19/accessing-your-super. The estimates are based on assumptions including a retirement age of 67, a gross investment return of 7.5% pa, tax on earnings of 7%, investment fees of 0.85% pa, income of $50,000 and an initial inflation rate of 2.5% pa with a growth rate of 1.5% pa. All results are shown in today's dollars. Additional assumptions are outlined in the 'Super withdrawal estimator'. The above table is provided for illustrative purposes only and is not specific to the fees and costs of a particular financial product. Investment returns are not guaranteed.
Five things to think about before applying
We know that many Australians are doing it tough and being able to access their super early has made it possible to pay bills or debts. But before taking steps to get early access to super, Martina Taylor, Superannuation Consultant, talks about five things to think about:
Eligibility*
Short-term consequences
Long-term impact on your retirement
Other financial support
Insurance in super

*The Government has since extended the application period to 31 December 2020.
Further reading: Managing the COVID-19 crisis–an update on Government policies that might affect you
The application process and next steps
If you've decided to apply for early release of super due to COVID-19, refer to the FAQs below for details on the application process and tips to make it a smooth process. Here's a timeline of what you can expect: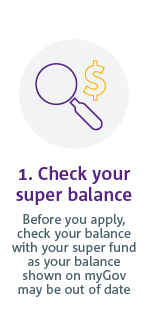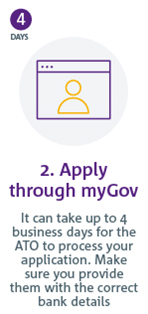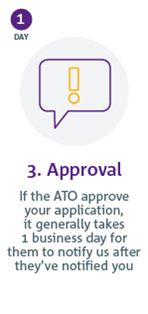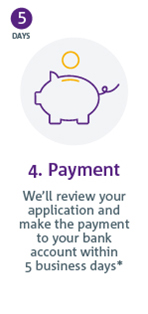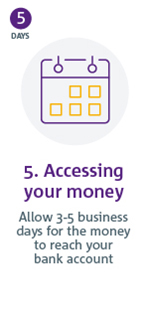 *This is an estimate only and may vary depending on individual applications.
Plum is aware of current scams targeting Australians. Please see FAQ below for more information.
Coronavirus & early access to super

Coronavirus & the impact to your insurance in super

Your insurance may be impacted. This is because your insurance premiums are paid from your Plum super account, unless your employer pays for the cost of your insurance cover. So, you must have enough super savings to pay for the cover.

It's important to take a moment and think carefully about whether you want to have insurance as part of your super.

You can find out more about insurance in super here.

And don't forget, you can change or cancel your insurance at any time, by calling us.
If you are not receiving regular contributions and your account balance can no longer cover the cost of your premiums, your insurance may be switched-off.

Please refer to your insurance guide for more details on when your insurance cover may be switched-off as a result of this, and how to start it up again.
Plum is aware of current scam phone calls targeting Australians. The caller may claim to be from an organisation that can assist you to get early access to your superannuation. The caller may ask for your personal and superannuation details.

If you ever have any concerns as to the legitimacy of a call, hang up and call the company back on a publicly listed number.

If you have received this type of call and have provided information about your superannuation, please contact Plum immediately on 1300 55 7586.

If you receive a text message saying your superannuation fund is going to release your super, and you did not request this, contact us.

If you have provided personal or banking details, please also contact your financial institution.

You can also read our article for more information, or visit the Scamwatch website for more information about this scam.

This information is current as at May 2020.
Important information
Interests in the MLC Super Fund ABN 70 732 426 024 are issued by NULIS Nominees (Australia) Limited ABN 80 008 515 633, AFSL 236465 (NULIS). Plum Super is a part of the MLC Super Fund.