Active fixed income management

September 2019
By Nicholas Hofmyer, Portfolio Manager at MLC

Negative yields and negative interest rates emphasise case for active fixed income management
People tend to use words loosely. Think of the number of times "unique" or "unprecedented" get casually thrown about.
However, those words are truly appropriate to interest rate and fixed income (bond) markets in the post-GFC era.
It recalls an amusing revelation from Andrew Haldane, the Bank of England's chief economist — the UK's equivalent of the Reserve Bank of Australia — back in 2015, when he said that global interest rates then were the lowest they had been "at any time in the past 5000 years."1
With global interest rates not having moved greatly since then, and unless someone alive today was around 5000 years ago, this really is a unique and unprecedented time in interest rate and fixed income markets.
Investors buy assets in the expectation of positive future returns, however, around 29 percent of all global government and corporate bonds, valued at around US$16 trillion, are currently trading with negative yields2 (see Chart 1): yields describe the relationship fixed income prices and the regular income payments associated with them. Falling yield mean fixed income prices are up, while rising yields mean fixed income prices are going down.
In the case of negative yields, what this means is that investors who hold these negative yielding government and corporate bonds will get back less than what they paid if they hold those assets to maturity.

Chart 1: Big rise in negative yielding bonds in recent years
Bloomberg Barclays Global Aggregate: negative yielding bonds (US$ value)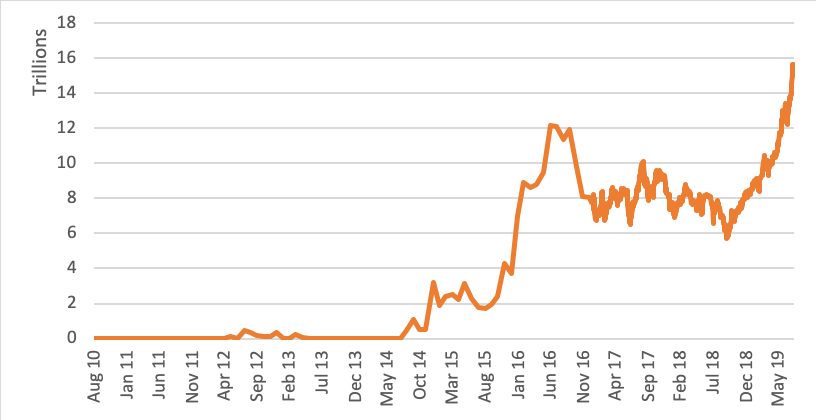 As of 31 August 2019
Source: Bloomberg

What a difference a year makes

Things might have been different if expectations and trends of just a year ago progressed.
Back then, the US Federal Reserve (the Fed) was hiking interest rates, albeit off extremely low levels, the RBA was flagging that the next move in rates here was likely up, the European Central Bank was winding back its quantitative easing program (asset buying program), and on it went.
It looked like the long way back to more normal interest rates was on.
All of this was going on in the context of a stronger global economic pulse. What happened?
In short, economic conditions cooled. In the US, the adrenaline shot from the Trump tax cuts are fading, uncertainty stemming from the US-China trade war is becoming an economic and investment drag, while Britain's Brexit agonies have been rolling on and Italy's government has resigned.
Meanwhile, the Fed, rather than raising interest rates, cut them in June and September, with markets anticipating the potential for several more moves over this year and next.
This has been positive for recent fixed income returns.

Four-decade fixed income tailwind

In fact, it's not just the recent past that's been positive for bond returns.
The past four decades has been a good period for fixed income investing as yields have fallen (fixed income prices risen. See Chart 2) as central banks brought inflation, which was a problem in the 1970s, under control, and interest rates fell.

Chart 2: Government bond yields across several developed countries have fallen over recent decades
Core developed market 10-year government bond yields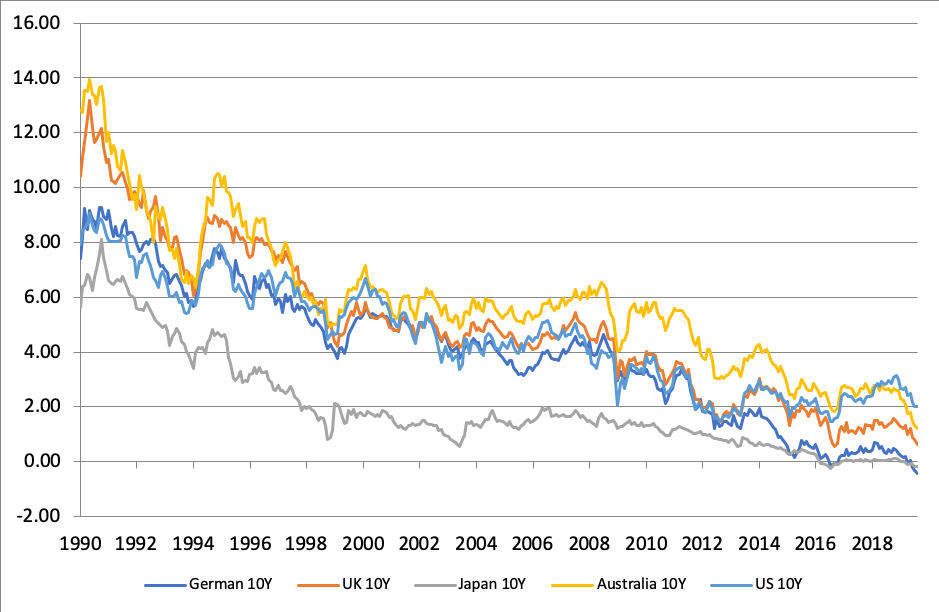 As of 31 August 2019
Source: Bloomberg

Other explanations offered for the fixed income tailwind include, aging populations, globalisation as China and other emerging economies added to the world's labour and product markets and introduced deflationary influences, and, of course, technology.
Together these have reduced developed markets' investment requirements, and increased fixed income demand, as bonds are regarded as lower risk assets versus shares.
The big issue for bond investors and managers now is, what happens next.
Fixed income yields and interest rates could possibly go further down, and that would be positive for bond prices.
On the other hand, with fixed income yields and interest rates already so low, there must be some doubt over their likelihood of going much lower.
Active investing to manage sensitivity to interest rate risks

With fixed income yields being so low (prices high), the risks associated with bond investing are also relatively high.
A way of gauging fixed income risks is through their "duration," which is a measure of a fixed income asset's price sensitivity to market interest rate movements.
We estimate that just a 20-basis point (0.2 percent) rise in market interest rates would wipe out the annual income that an investor would receive from Australian and global fixed income benchmarks.
To put that in perspective, the decline in yields over the past year has been around 120 basis points (1.2 percent) for the Australian bond benchmark, so a reversal of just one fifth of that move would put investors who invest according to the benchmark, in the red.
To be clear, many investors don't simply invest by mimicking fixed income benchmarks. It does, though, emphasise that downside risks are higher than upside risks in fixed income investing, these days.
Active investing is the way of managing the interest rate sensitivity of fixed income portfolios.
Investing by mimicking fixed income benchmarks would mean holding bonds weighted towards countries and companies issuing the most debt. Effectively, indiscriminately taking on increasing risk. That's probably not what most investors would want.
Again, active management allows fixed income investors and managers to, amongst other things, avoid parts of the market where the risk/reward trade-off doesn't make sense.
Bond investments within diversified portfolios

Though bond prices are high, there are still reasonable arguments for owning them as part of well-diversified portfolios.
For starters, they provide portfolios with diversification away from share market risks. Generally (but not always), when investors become unsettled and worried, they migrate from shares to bonds.
Moreover, the fixed income universe is deep and diverse, and thus there are always pockets of opportunity that good active managers can potentially uncover.
To be clear, fixed income markets are so large that no single manager can be good at everything.
That's why we select and partner with managers who we judge to be particularly good in different fixed income sectors.
For example, we use Wellington to manage global investment grade credit (investment grade credits are higher rated bonds issued by major companies). Alongside Wellington we have Insight to manage global government bonds.
The flexibility offered by having a stable of bond managers is that if, by chance, one manager is persistently struggling in a particular sector, they can be replaced without changing the character of the rest of the fixed income portfolio.
Another way we manage the fixed income risk and reward trade-off is through the type and amount of risk we assign to different portfolios we manage for clients. It's the opposite of one size fits all.
The active fixed income management applied across all portfolios is designed to deliver a combination of income, capital preservation and diversification, the hallmarks of fixed income investing.
1Stuck. Speech given by Andrew G Haldane, Chief Economist, Bank of England to Open University, Milton Keynes 30 June 2015. https://www.bis.org/review/r150717a.pdf. Accessed 28 August 2019.
2The 29 percent figure is as of 31 August 2019 and is based on MLC Investments Limited's analysis of Bloomberg Barclays Global Aggregate index data sourced from Barra.
Past performance is not a reliable indicator of future performance. The value of an investment may rise or fall with the changes in the market. This information is directed to and prepared for Australian residents only.
Important information
This communication is provided by MLC Investments Limited (ABN 30 002 641 661, AFSL 230705) (MLC), a member of the National Australia Bank Limited (ABN 12 004 044 937, AFSL 230 686) group of companies (NAB Group), 105–153 Miller Street, North Sydney 2060.
This information may constitute general advice. It has been prepared without taking account of an investor's objectives, financial situation or needs and because of that an investor should, before acting on the advice, consider the appropriateness of the advice having regard to their personal objectives, financial situation and needs.
An investment in any product referred to in this communication is not a deposit with or liability of, and is not guaranteed by NAB or any of its subsidiaries.
Past performance is not a reliable indicator of future performance. The value of an investment may rise or fall with the changes in the market. The returns specified in this communication are reported before management fees and taxes.
Any opinions expressed in this communication constitute our judgement at the time of issue and are subject to change. We believe that the information contained in this communication is correct and that any estimates, opinions, conclusions or recommendations are reasonably held or made as at the time of compilation. However, no warranty is made as to their accuracy or reliability (which may change without notice) or other information contained in this communication.
This information is directed to and prepared for Australian residents only.