Our main focus is to help you build a better future for your life up to, and in, retirement. As a member of Plum Super, you have exclusive access to the Plum Retirement Income, an account based pension to help fund the lifestyle you want in retirement.
Plum Retirement Income a simple and flexible account-based pension.
How Plum Retirement Income works
The Plum Retirement Income (also referred to as an account based pension) provides you with a simple and flexible way to convert your super investments into a regular, tax-effective income when you retire, or when you transition into retirement.
Commencement of your pension
Your money is invested in accordance with your chosen investment strategy. The balance of your account will increase or decrease reflecting investment earnings, pension payments, fees and costs, and any taxes payable. As your account balance changes over time, the amount of your pension payments may vary. Your pension ceases to be paid when your account balance is reduced to zero.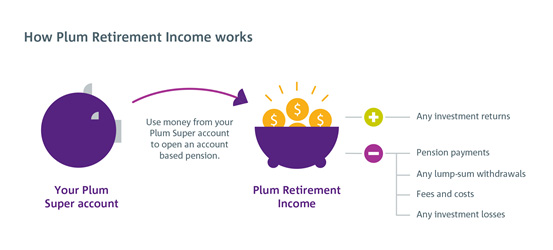 A Plum Retirement Income account makes it easier for you to enjoy your retirement by offering a simple and flexible income from your trusted super brand. Plum Retirement Income can be established under both transition to retirement (TTR) or normal conditions of release rules. As a member of Plum Retirement Income, you'll enjoy:
regular pension payments made directly into your nominated bank account
the flexibility to withdraw all or part of your balance at any time (if eligible)
your choice of investment options specific to retirement needs.
the ability to make a reversionary, binding, or non-binding beneficiary nomination
access to financial advice services
half-yearly pension benefit statements
online access so you can switch your investments at any time
access to annual tax and Pay As You Go (PAYG) statements where applicable.
Five investment choices
With a Plum Retirement Income, you put your pension balance to work by choosing one or a combination of five investment options, to suit your risk appetite. The investments are managed by Jana Investment Advisors, one of Australia's most highly-regarded investment consultants.
"Choose from five investment options to suit your risk appetite."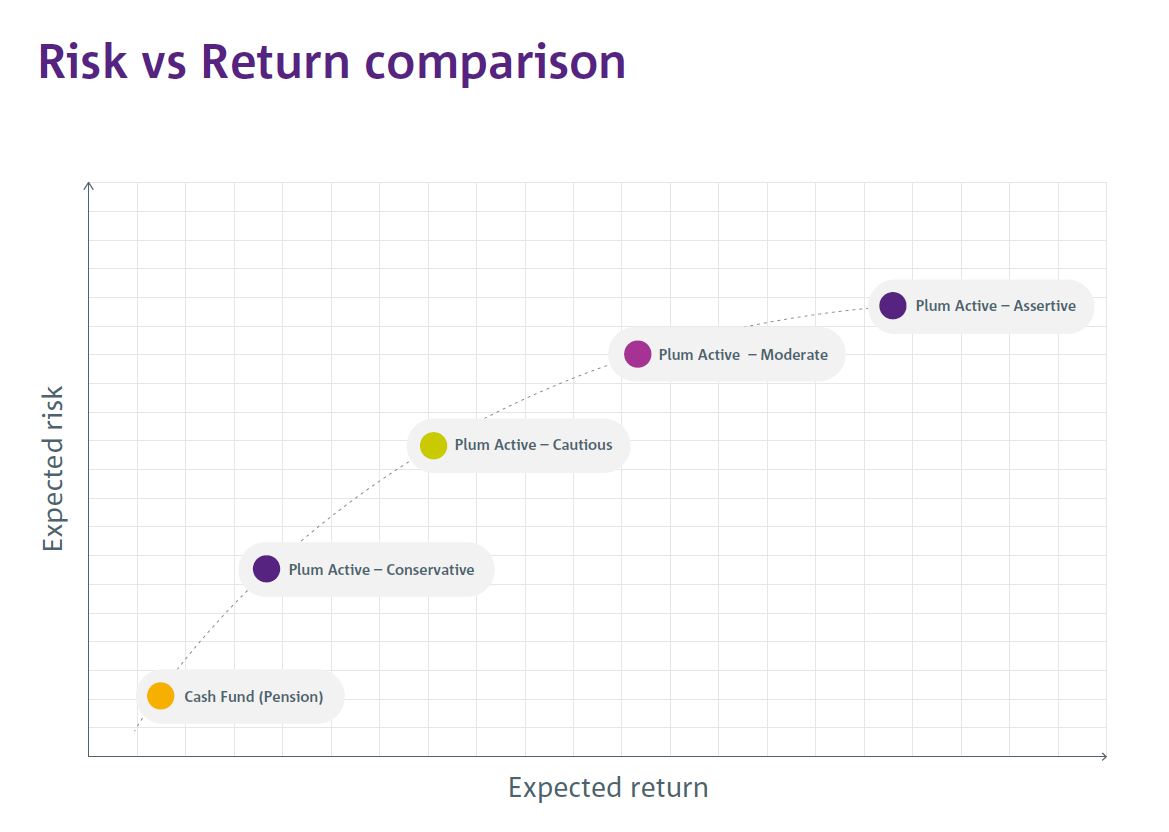 Joining is easy
Plum Retirement Income is available to existing Plum Super members who have reached preservation age, with a superannuation account balance of at least $50,000 and wish to establish an account-based pension or transition to retirement pension.
How to join the Plum Retirement Income
Step 1: Read the Product Disclosure Statement which includes all the details about the product.You can access a copy here or call us on 1300 55 75 86 and we will post you a copy.
Step 2: Complete the Application form either online by logging into your account or printing a form here. You are also required to complete a Tax File Number Declaration (TFN) form if you commence a pension prior to obtaining 60 years of age, call us on 1300 55 7586 or visit www.ato.gov.au for a copy of this form.
Depending on your eligibility, the Application form allows you to:
choose if you wish to have all or part of your super benefit converted to a pension
consolidate and contribute to your super prior to starting your pension
choose the amount of your regular pension payment (subject to limits set out in legislation)
select an investment option(s)
nominate a beneficiary in the event of your death.
Join online:
Log in to your account at plum.com.au and follow the Plum Retirement Income prompts or call us on 1300 55 75 86

.
Defined Benefit members
If you're a Defined Benefit member, you can use the money in your accumulation account (if any) to purchase an account-based pension. If you'd like to transfer more than the money in your accumulation account, depending on the benefit design of your employer plan you may be able to transfer your Defined Benefit to an accumulation benefit to open the Plum TTR or account-based pension.
Please contact us for more information or speak to a licenced financial adviser.
Need help:
Before commencing a pension you should consider whether the product is appropriate for your needs. You can contact us for help about your Pension. We can provide you with online and phone-based general advice on a range of pension strategies. If you need comprehensive financial advice, you can access personal face-to-face advice via a licensed financial adviser. To access these services, call us on 1300 55 7586 or visit www.plum.com.au. A licenced financial adviser may be able to:
help you understand your financial commitments (both current and on-going).
advise you on how to optimise your taxation position.
advise you about the impact on any social security (Centrelink) payments.
tell you about all the income options available to you.
guide you through the application process and help you complete the relevant forms.
advise you on how to combine all your superannuation benefits before starting a Plum Retirement Income account.
help you structure your account and choose the right investment strategy to suit your needs.
Next steps
Find out more about our financial advice offer
Contact an adviser
Contact us on 1300 55 7586 or if calling from outside of Australia call +61 3 9222 4800