Contribute to your spouse's super
Do you have more super than your spouse? You could both gain by levelling out the benefits.
If your partner either earns less than you or is not currently working, they may be accumulating little or no super. The good news is that if you're married or in a permanent de facto relationship, you may be able to boost their super account in a way that can benefit you both.
There are a couple of ways to help increase your eligible partner's super account, including a spouse contribution or a contribution split.


Spouse contributions
Make a contribution to your spouse's super account and you may be eligible for a tax offset

Contributions Splitting
Move up to 85 per cent of your eligible concessional contributions to your spouse
Spouse contributions.
If you contribute to your spouse's eligible super account, by the end of the financial year you could receive a tax offset of up to $540.

Who is eligible?
To be eligible for the full offset amount, your partner must have income less than $37,000 in the 2018/19 financial year and you must contribute at least $3,000 to their super. A lower tax offset may be available if you contribute less than $3,000 or your spouse earns between $37,0001 and $40,0001 pa.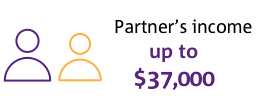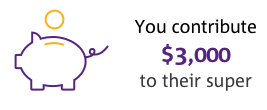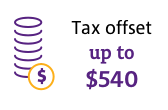 You both need to be Australian residents at the time you make the contribution. Your spouse must either be under the age of 75 or, if aged between 67 and 74, they need to meet the work test, or be eligible for the work test exemption. The work test means you've worked in gainful employment for 40 hours within a 30-day period during the year.
Spouse contributions count towards your spouse's non-concessional contributions cap. Penalties may apply if either of you exceed your non-concessional contributions (NCC) cap. The annual non-concessional cap is $100,000 in 2018/19. The rules that relate to the NCC cap are complex. See the ATO for more information.
The offset also won't apply if your spouse exceeds their non-concessional (after-tax) contributions cap for the year or your spouse has a total super balance above the general transfer balance cap, which is $1.6 million for the 2018/19 financial year.
Contributions splitting
Another option for boosting your spouse's super balance is to split eligible concessional (before-tax) contributions from your account to your spouse. These generally include the Superannuation Guarantee, salary sacrifice contributions and personal contributions for which you claim a tax deduction.
How do split contributions work?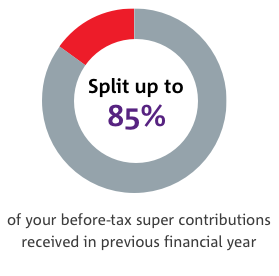 If your super fund allows, you can split up to 85 per cent of the before-tax super contributions received in the previous financial year. The 85 per cent limit reflects the fact that super funds deduct the 15 per cent contributions tax before the contribution reaches your partner's super account.
Amounts you split to your spouse will not be treated as contributions in your spouse's name. They will continue to count towards your concessional contributions cap, in the year in which you originally received them.
What are the benefits?
The benefits depend on your age and circumstances. You could benefit from:
better managing the tax you pay by providing access to two tax-free thresholds if you and your spouse want to draw a super pension before you're 60;
two super lump sum low-rate thresholds;
reducing the assets assessed for the Centrelink means test if your spouse is younger than you. This could increase your Centrelink entitlement in certain circumstances.
Who is eligible?
To be eligible for contributions splitting, your partner must be less than their preservation age, or between their preservation age and 65 and not retired.
Preservation age is based on your date of birth.
| | |
| --- | --- |
| Date of birth | Preservation age |
| Before 1 July 1960 | 55 |
| 1 July 1960 to 30 June 1961 | 56 |
| 1 July 1961 to 30 June 1962 | 57 |
| 1 July 1962 to 30 June 1963 | 58 |
| 1 July 1963 to 30 June 1964 | 59 |
| From 1 July 1964 | 60 |
If you're a member of a public sector fund different conditions may apply so it's important to check with your fund to see whether or not you're eligible to split contributions.
Are there any costs?
Not all super funds allow contribution splitting and those that do often have different limits and conditions. A contribution splitting fee may apply.
We're here to help. Call us on 1300 55 7586, Monday to Friday, 8am to 7pm AEST.
Important information
The information about super has been prepared without taking into account any particular person's objectives, financial situation or needs. Before acting on this advice or deciding to make a contribution to your super, interested persons should consider the appropriateness of this information having regard to their personal objectives, financial situations or needs.
1. Australian Taxation Office age restrictions on accepting contributions